Sterling Silver US HISTORY LOT of 70 MEDALS Franklin Mint 1836-1953 incomplete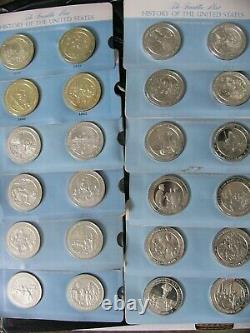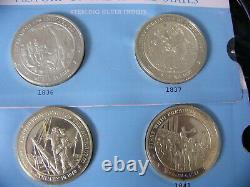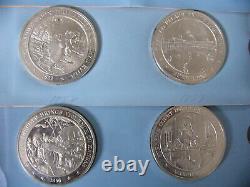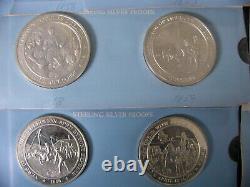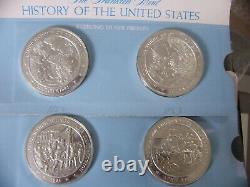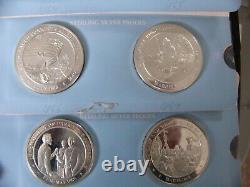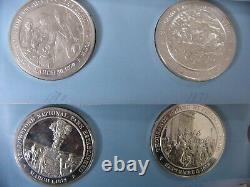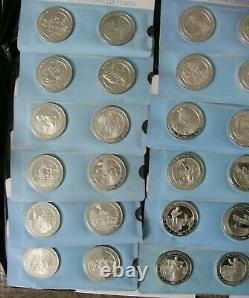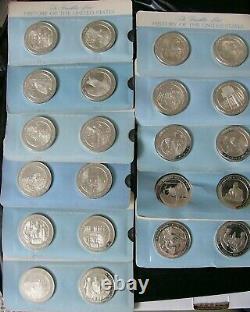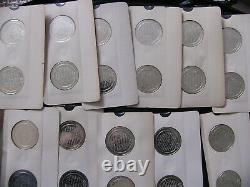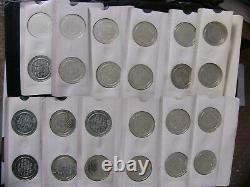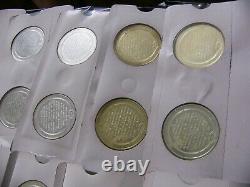 Franklin Mint History of the United States. Large LOT of 70 medals in 35 cards (list of years below). Manufactured weight of 600 grains (1.25 troy ounce). Marked Sterling Silver on edge with production no.
The condition of the medals appears to be excellent. They are encased in a thin plastic film inside the cards.
Except for the reverse of the first four in the series, they do not appear to have any coloring from oxygen exposure. The cards are in fair condition and a bit musty in odor. I have close-up photos of each group of 12 (11) cards (close-ups of the first set are posted), which I can forward upon request. Approximate weight of silver per medal is 1.16 ozt.
I will be offering several options, including medium flat rate although I do not have that size box currently and the other options are similar in price. 1836-Texas Independence 1837-Depression depresses industry. 1840-Wilkes Expedition 1841-first Whig president. 1852-Uncle Tom's cabin 1853-Crystal Palace opens.
1856-Slavery dispute 1857-Supreme Court upholds slavery. 1858-Lincoln-Douglas debate 1859-oil industry begins. 1860-Lincoln's election 1861-Attack on Fort Sumpter. 1862-first battle of ironclads 1863-Battle of Gettysburg. 1864-Sherman's march 1865-General Lee surrenders. 1868-Johnson impeached 1869-railroad joins east coast to west. 1870-15th Amendment/Right to Vote 1871-Chicago fire. 1872-Yellowstone National Park 1873-financial panic. 1874-barbed wire fence in the west 1875-religious revivals. 1882-buffalo near extinction 1883-Civil Service. 1886-Statue of Liberty 1887-Interstate Commerce Act. 1888-the great blizzard 1889-Oklahoma rush.
1894-Coxey's march on Washington 1895-the horseless age. 1898-Spanish American war 1899-Admiral Dewey homecoming.
1902-irrigation of arid lands 1903-first powered air flight. 1904-big league baseball 1905-Teddy Roosevelt inaugurated. 1912-women seek the right to vote 1913-assembly line manufacturing. 1916-Mexican border war 1917-US enters WWI. 1918-US forces in Europe 1919-Wilson signs peace treaty. 1922-Naval limitation treaty 1923-Calvin Coolidge president. 1926-US sesquicentennial 1927-Lindbergh solo flight. 1930-unemployment rises 1931-Empire State building.
1946-trial of war criminals 1947-Soviet power containment. 1950-US enters Korean war 1951-Macarther's farewell. 1952-Eisenhower (like Ike) 1953-Health, Education & Welfare. This item is in the category "Coins & Paper Money\Exonumia\Medals".
The seller is "ice_raptor" and is located in this country: US. This item can be shipped to United States.
Modified Item: No
Country/Region of Manufacture: United States
Type: Medal
Circulated/Uncirculated: Uncirculated
Composition: Silver
Brand: Franklin Mint