1977 Franklin Mint MEDALLIC COMMEMORATIVE SOCIETY 12 Silver Medals Sterling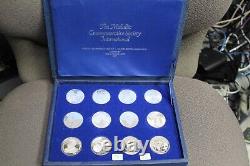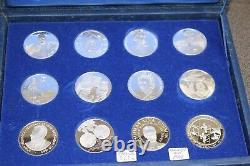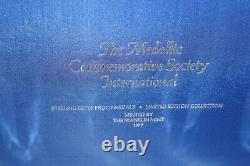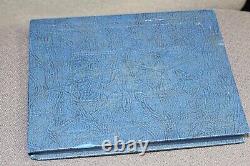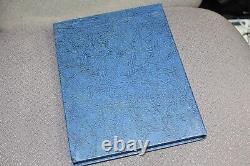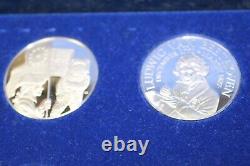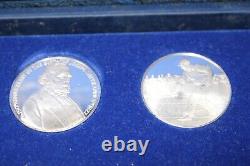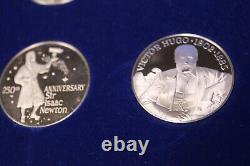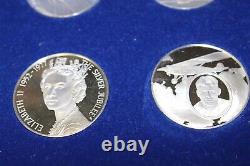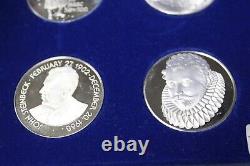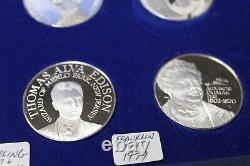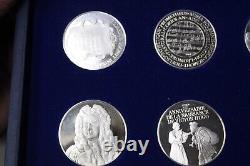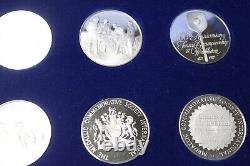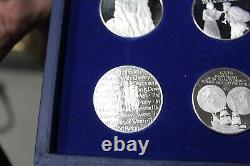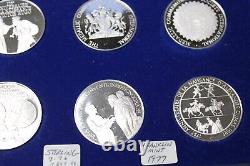 A few have blemishes in the frosted areas and there are some small scratches on a couple that I found very difficult to capture on camera. Overall, they look good in my opinion and present well as a display.
If you want perfect coins, these are probably not for you. Below is from Franklin Mint. Franklin Mint 12 Silver Medallic Commemorative Society by The Franklin Mint - "The Medallic Commemorative Society International 1977".
Complete set of 12 Commemorative Proof Medals. Each solid sterling silver proof medal measures approximately 1.5 inches or 39 millimeters across and weighs approximately 20.2 grams and a total of 242 grams.
Each medal's edge stamped. 150th Anniversary of the birth of Joseph Lister "The Father Of Modern Surgery". Alexandre Dumas Pere - Writer. 100th Anniversary Tennis Championship at Wimbledon.
Ludwig Van Beethoven - Composer. 200th Anniversary of the adoption of THE STARS AND STRIPES.
400th Anniversary of Sir Francis Drake Voyage around the world. Victor Hugo - Novelist - Poet.
250th Anniversary of Sir Isaac Newton. 100th Anniversary: Invention of the Phonograph.